Dental Implants — Waupun & Beaver Dam, WI
Permanent, Secure Tooth Replacements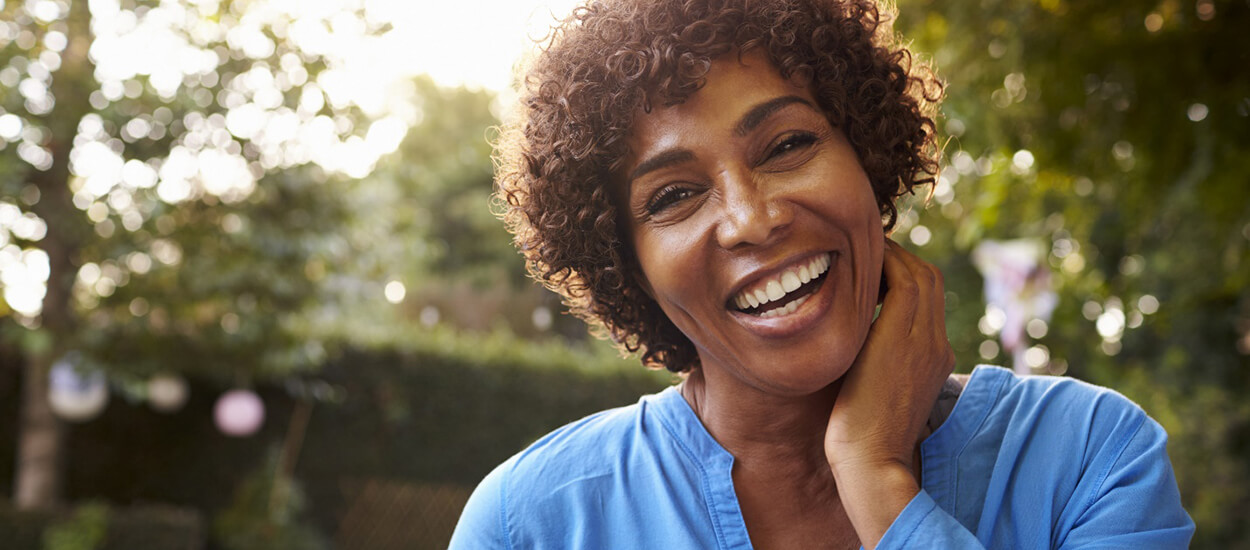 The dentists at Dentistry of Wisconsin have worked with dental implants since the late 1980s, and we are one of the few dental offices in Wisconsin that both places and restores implants. You can enjoy the convenience of having all of your implant dentistry services performed in our dental office without having to see other dentists or specialists.
Implants are surprisingly painless and are extremely successful over time. Almost anyone with missing teeth can be a candidate for this procedure, and it is possible to have your implant dental crowns placed almost immediately. Our dental office caters to implant cases. Special times have been reserved for these patients, so they can get started with the quick journey to a new smile when they call. Contact us today in Waupun or Beaver Dam to get started!
Why Choose Dentistry of Wisconsin for Dental Implants?
Start-to-Finish Dental Implant Procedure

Cone Beam CT Scanner for Surgical Precision
Modern, Welcoming Dental Practice
What Are Dental Implants?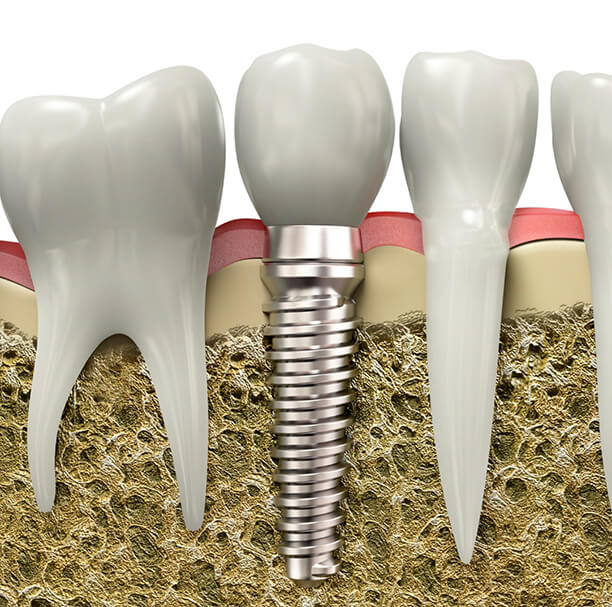 A dental implant itself is a small titanium post that we can place beneath the surface of your gums to restore the roots of your missing teeth. Due to the metal's biocompatible nature, your implants will fuse with your jawbone, just like your natural tooth once was. This will provide a strong, stable, and sturdy foundation for a dental bridge, crown, or denture to be secured to and restore your smile. For this reason, dentists often recommend them over traditional tooth replacements, giving you confidence in your future smile for years to come!
Start-to-Finish Convenience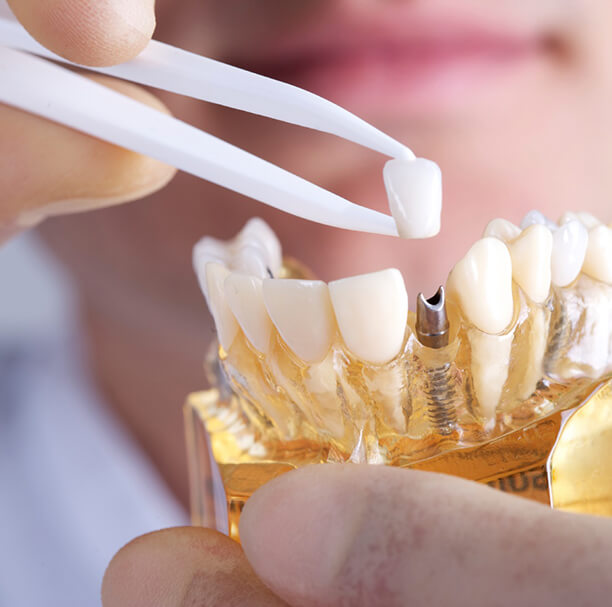 Our team at Dentistry of Wisconsin is unique in the fact that we're able to complete the entire dental implant procedure under one roof, including the placement of your implant posts. This means that you won't have to worry about visiting different specialists throughout the process or gaps in communication, because our caring, expert team will be by your side from the beginning to the end. You can learn more about our team's qualifications and educational backgrounds by visiting our dentists' biography pages.
Dentist Qualifications
Our educational background regarding implants includes time spent at the Clinical Research Associates, University of Minnesota, the London Institute, the Pankey Institute, and more. Additionally, our dentists have attended numerous courses at meetings like the Midwest Dental Meeting, the Implant Dentistry Continuum in Chicago, and with the American Academy of Cosmetic Dentistry.
Learn More About Sedation Dentistry
The 4 Step Dental Implant Process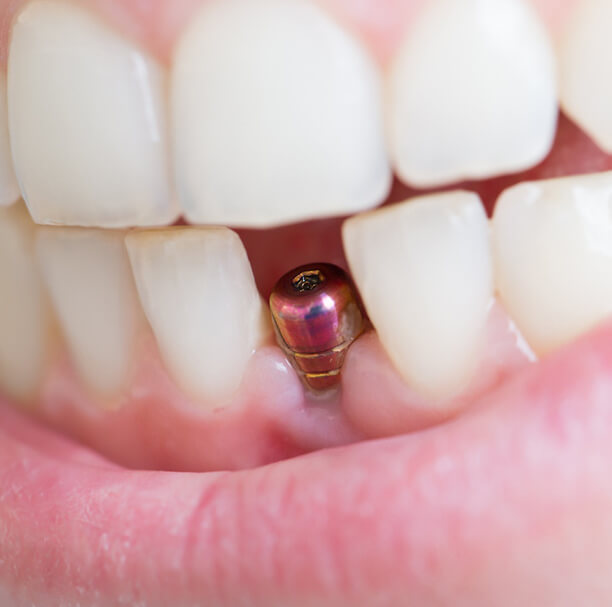 Dental implants in Beaver Dam allow you to enjoy the next best thing to your real teeth, both in terms of function and aesthetics. Their success and reliability rely on the process used to replace the root and crown of your tooth. We understand it can seem overwhelming, but do not let that stand in your way of rebuilding your smile. We take the time to explain your treatment and answer your questions to ensure you head into your procedure feeling confident. Your journey to a complete smile will consist of multiple phases.
Initial Consultation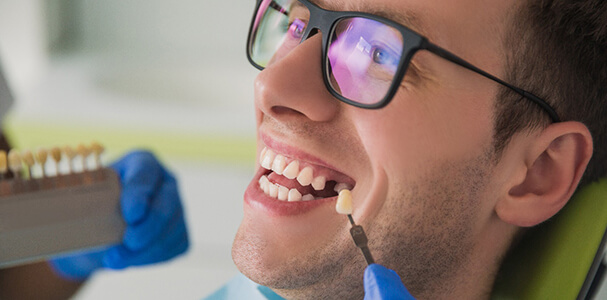 The first step in your journey is to schedule your consultation with your dentist in Beaver Dam. They take the time to discuss your oral and general health to look for any factors that may lead to implant failure. Besides a visual examination, they also take a digital X-ray and a CT scan to assess your oral structures. Based on the information, you may require additional procedures before your implant posts are placed, such as bone grafting.
Dental Implant Surgery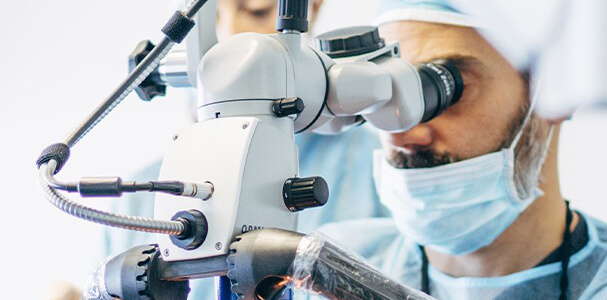 After the foundation is set for your new smile, you are scheduled for your implant placement surgery. Your posts are strategically placed in your jawbone using the information from your CT scan. Sedation or anesthesia is used to ensure your comfort while your gum tissue is opened to expose your jawbone. A small hole is created in your bone for each post to be inserted. Your gums are sutured closed, and you begin healing. If you are replacing all your teeth, you may have your abutments and a temporary denture attached the same day.
Osseointegration & Abutment Placement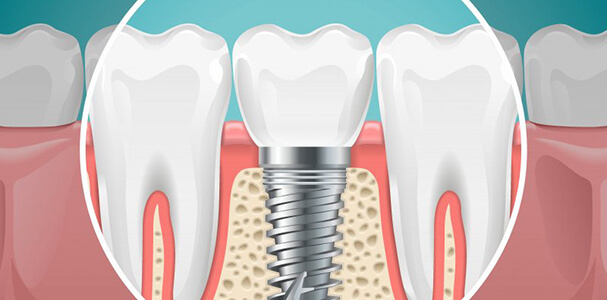 The implant posts act as new roots, stimulating your jaw to encourage new bone growth. Your jawbone fuses to the posts over the next several weeks. This creates a stable foundation for your new teeth while also allowing the implant posts to remain in place for a very long time with the right aftercare, like maintaining your oral hygiene.
You need a second minor surgery to attach abutments to the posts after your jawbone has healed. The abutments are connector pieces between the posts and the crowns. It takes about two weeks to heal from attaching the fixtures.
Delivery of Final Restoration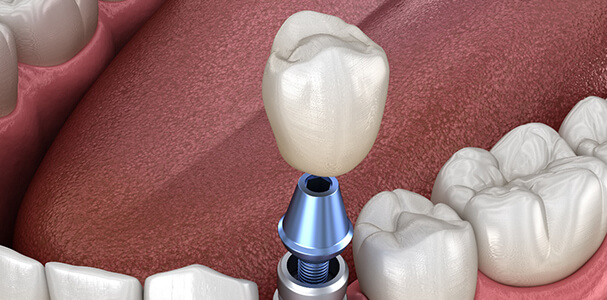 We take a digital impression of your mouth to create your restoration to meet your exact needs. No matter if it is a single crown, bridge, partial, or full denture, it is carefully crafted to look natural, so you can smile with confidence. Your restoration is made from high-quality and durable material to last for several years.
Benefits of Dental Implants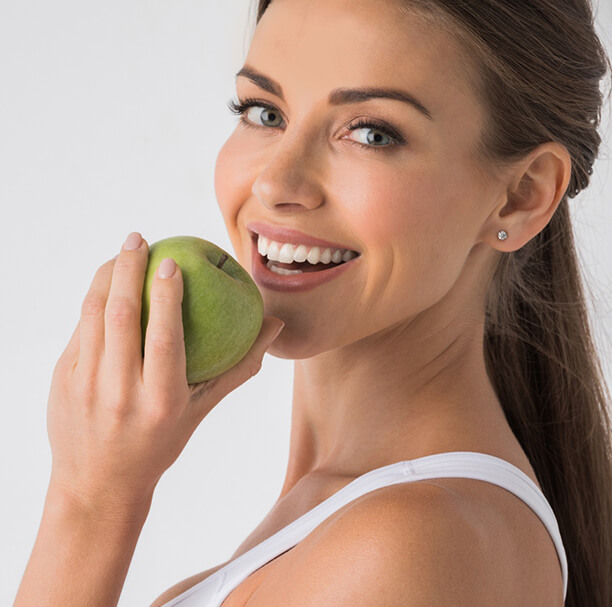 Dental implants come so highly recommended by patients and professionals alike because they offer several unique, life-changing benefits that set them apart from other tooth replacement solutions. These advantages include:
Preserved jawbone density
Prevent sagging, drooping, and hollow cheeks
Enhanced bite power
Natural-looking and feeling replacement teeth
Easy to maintain
30+ year lifespan with regular care
No alteration of surrounding teeth necessary
98 percent treatment success rate
Restores one or all teeth
Who Dental Implants Can Help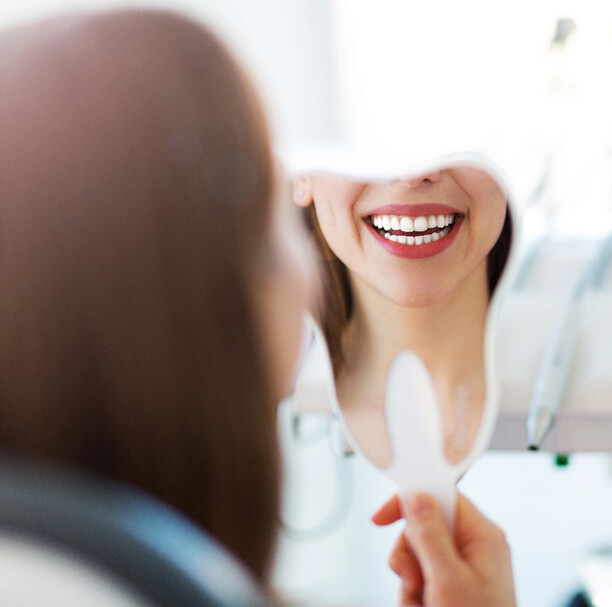 The best way to learn whether dental implants are the right treatment for you is to schedule a consultation with our team at Dentistry of Wisconsin. We'll collect X-rays of your mouth and conduct a visual examination to better understand your tooth loss situation. We'll then draw up a customized treatment timeline and walk you through it in detail so you know exactly what to expect if you commit to the procedure.
Who Is a Good Candidate for Dental Implants?
If your jawbone has already deteriorated due to the absence of teeth, you may not be able to get implants. However, this can often be corrected through a bone graft procedure. Similarly, patients with gum disease will need to get periodontal therapy before the surgery.
Other health issues also need to be taken into account. Diabetes can make you more vulnerable to infection and disrupt the body's healing process, so unless it's well-controlled, it could cause complications.
Missing One Tooth
One of the biggest benefits of dental implants is their versatility. Whether the patient is missing several teeth or just one, most are viable candidates for this transformative procedure. When faced with the latter, our team will pair your surgically placed implant with a custom-made dental crown. This crown will be crafted from beautifully lifelike dental ceramic, which will help it blend in seamlessly alongside the natural teeth. Better yet, its conservative nature won't require any significant amounts of the remaining natural structure to be reduced.
Missing Multiple Teeth
If the patient needs to restore several teeth throughout the mouth, there are multiple options available. When the teeth are scattered, individual implant dental crowns may be the best solution. However, if multiple missing teeth once appeared next to each other, an implant bridge may be preferred. This type of restoration is anchored in place securely with the use of two dental implants, which are placed on either side of the overall gap. This modern reconstructive method is superior to traditional dental bridges.
Missing All Teeth
When extreme tooth loss occurs, even the simplest everyday actions like enjoying a favorite meal or speaking to friends can become incredibly difficult. Dental implants are the best way to regain your complete smile and get back to living life to the fullest! Our dentists can design the ideal implant denture for your unique mouth, providing optimal fit, durability, and cosmetic value. This type of prosthetic can either be removable in nature for patients who are already used to the convenience of traditional dentures or permanently anchored in place.
Understanding the Cost of Dental Implants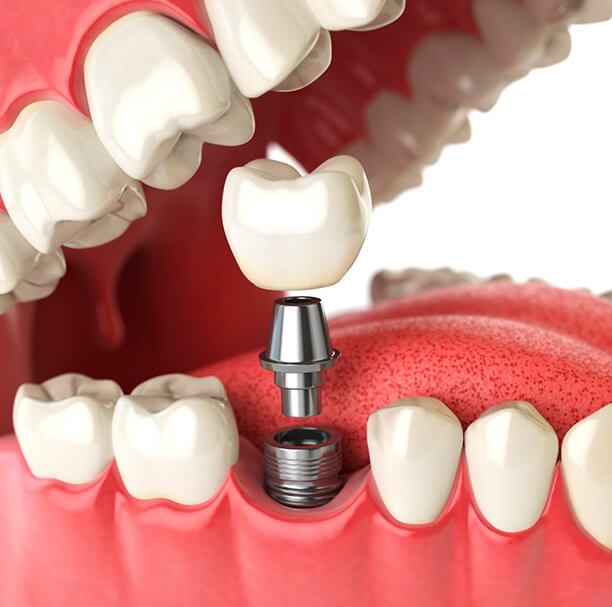 If you have one or more missing teeth, it is important for your oral and overall health that you fill in the gaps in your smile. However, you may hesitate to commit to this treatment because you are concerned about cost. Let's talk about some of the factors that determine the price of dental implants, why they are a worthwhile investment, and how you may be able to fit them into your budget.
Preliminary Treatments & Dental Implant Surgery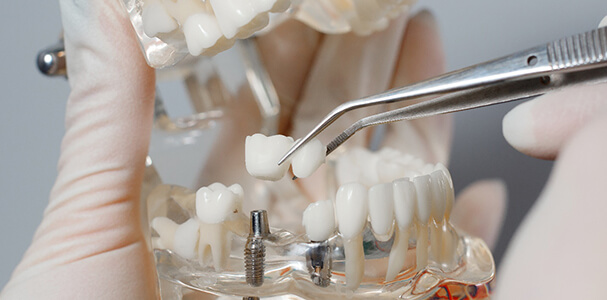 The cost of dental implants in Beaver Dam varies from person to person because every individual's needs are different. The price of your treatment will depend on:
The extent of any preliminary work you need. Some patients require a bone graft, extractions, or gum disease treatment before they're eligible for dental implants.
The number of implants you require. Logically, a single implant with a single crown costs less than full-mouth reconstruction.
The nature of your final restoration. The materials used to make your prosthetic teeth, as well as the type of prosthesis you need, may affect price.
Keep in mind as well that the dental implant procedure takes place across several stages and over the course of several months. Preliminary work, the implant placement surgery, and the restoration all occur at different times. Instead of paying for your entire implant procedure upfront, you only have to pay for each phase of the treatment as you undergo it.
Are Dental Implants Worth It?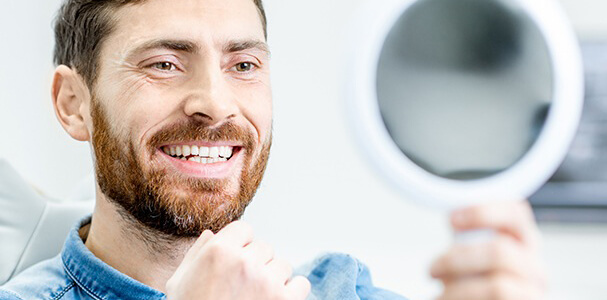 Yes, dental implants are worth the cost! They offer benefits that no other tooth replacement method can provide. For example, they stimulate the jawbone and help it maintain its structure. They also provide a bite force that is almost as strong as that of natural teeth. Plus, they have the potential to last a lifetime. Most other tooth replacement solutions last for just five – 10 years before they need to be replaced. Dental implants are therefore an outstanding long-term value.
Does My Dental Insurance Cover Dental Implants?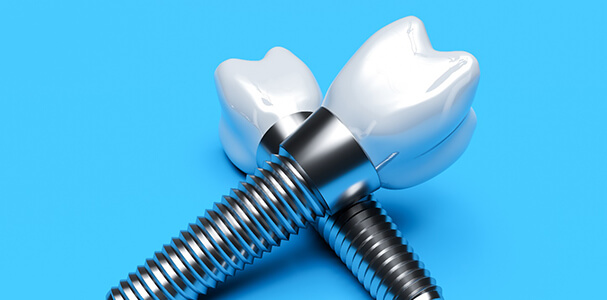 More and more dental insurance companies are offering coverage for dental implants. If your policy does not cover the implants themselves, it may mitigate your out-of-pocket cost for preliminary work or your final restoration.
Making Dental Implants Affordable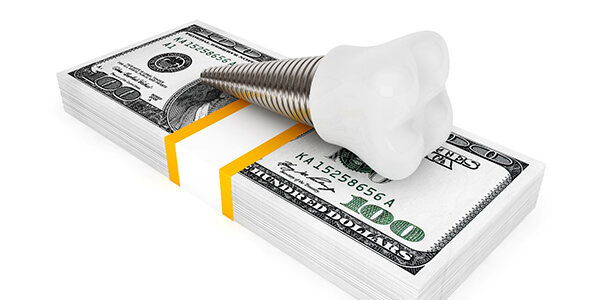 Don't let sticker shock over the price of dental implants hold you back from getting the strong, healthy smile you deserve. There are a number of resources you may be able to use to fit your treatment into your budget:
Medical insurance: A handful of medical insurance policies cover dental implants in Waupun if the implants are deemed necessary for your overall health.
CareCredit: Our team can help you apply for low- or no-interest financing.
Healthcare savings account (HSA) or flexible spending account (FSA) funds: Dental implants are an approved use for most HSA and FSA accounts.
Dental Implant FAQs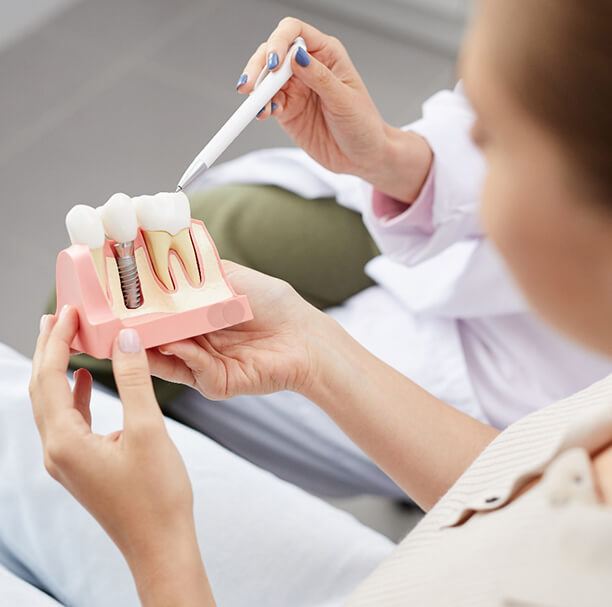 Getting dental implants is a process, and it's important to understand all the steps involved and what exactly happens at each stage. At Dentistry of Wisconsin, we place a lot of value in having well-educated patients. Here are some common questions that we've received about dental implants. If there's anything else you're curious or concerned about, you can ask us during a consultation.
Can dental implants fail?
Implants have a very, very high success rate – up to 98% – but there are some circumstances where they might fail. For example, the gums around the implant site could become infected, or there might not be enough bone present for a successful integration. Be on the lookout for possible signs of failure, such as a loose implant, inflamed or receding gums, swelling, severe pain or discomfort, and difficulty chewing. We'll help address the problem to protect your oral health; depending on the situation, we might be able to replant once the issue is solved.
Will my dental implant surgery hurt?
It may surprise you that the implant surgery causes very little discomfort. Thanks to anesthetic and various forms of dental sedation, the procedure can actually be far less uncomfortable than a tooth extraction! That said, you might experience some swelling and discomfort afterwards, but this should only last for a few days (the exact amount of time depends on your body and the complexity of the surgery itself).
Dental Implant Post-Op Instructions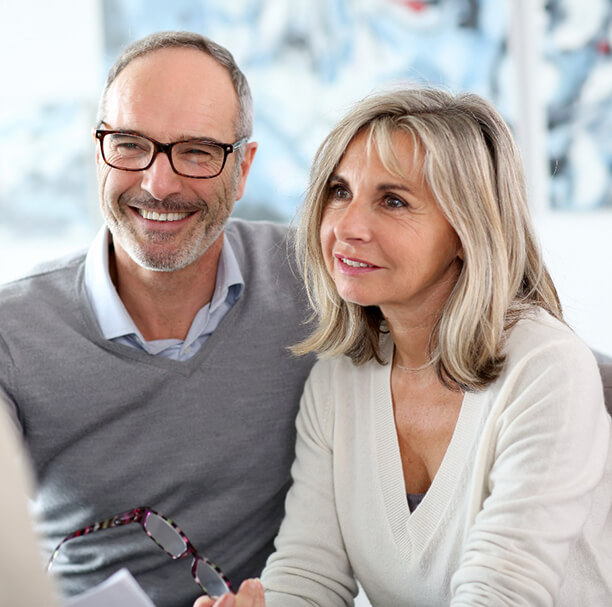 You'll likely need to spend the first day after surgery resting in bed or otherwise sitting still. Over-the-counter pain medications like ibuprofen can help you manage any discomfort. We might have more specific instructions depending on your situation, but in general, you'll need to stick to soft, nutritious foods while avoiding anything particularly hot. Don't drink with a straw until your mouth has healed, and don't smoke for at least a week. Finally, don't forget to brush your teeth and implants softly.